Join our classes any week!
Salsa dancing is a great way to keep fit, meet people and have lots of fun - plus learn about a wonderful genre of dance and music that is now popular around the world. We teach beginners right through to advanced level so there is something for everyone. All classes are taught by Lisa and/or Mark unless otherwise stated.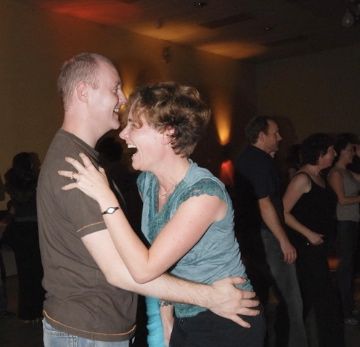 If you are a Beginner we recommend you come along for the first time to either our Monday or Wednesday classes. The Monday class for Beginners takes place at The Old Fire Station on George Street in central Oxford at 8.30pm. The Wednesday class for Beginners takes place at The Wesley Church Hall, New Inn Hall St, central Oxford at 8pm. You can join any week.
These are fun and friendly session and all are welcome, no previous dance experience is necessary. Normal shoes and normal clothes are fine too so you really can just rock up and join in! Also no partner is required (unless you want to come along with one of course). We will do a warm-up first to introduce you to the basic steps, then partner up to learn leading and following and cool moves and turn patterns. You will learn about salsa music along the way, if you need something to help you get started CLICK HERE for details of our Salsa Practice Music.
Salsa Class Tickets
£8 per class, £6 for students.
You can purchase on the door or below
Not a Beginner or looking for more options?
Improvers can also attend on Mondays at 8.30pm.
Improvers/Intermediates can also attend on Wednesdays at 8pm.
If you are an Intermediate/Advanced dancer we offer individual tuition by appointment at our studio, contact Lisa@SalsaOxford.com 07885 574 360 for details.
Any level of dancer interested individual tuition should contact Lisa as we can work on technique in more detail which is not possible in group classes. Many Complete Beginners also come for private tuition before their first class to build their confidence and get comfortable with the steps!
We can teach to professional standard so whatever your query we can help. Call us on 07885 574 360 with any questions or message lisa@salsaOxford.com.
Our party nights also offer classes, see our Salsa Club Nights and Venues in Oxford.
People often ask us what style of salsa we teach... Most of our classes are cross body on1 based but we are trained in all styles including on2 or New York style (which is our speciality) and Cuban, therefore we bring all our all-round salsa knowledge and experience to our students every week. You'll learn about salsa rhythm, weight change (which is crucial to good dancing), body movement, leading and following skills (which are the same whichever 'style' of salsa you dance), plus technique for turns and spins.
Did you know...
...'Salsa' is a brand name invented in the 60's by a record company called 'Fania' (like the 'Motown' of Latin music). Fania were looking for a name which would unite many Latin rhythms (and Latin peoples, especially those forced to emigrate from their homelands by economics or politics) under one easy-to-market umbrella and 'salsa' (which means 'sauce' or 'mix') fitted the bill perfectly. Many Latin artists released their music through Fania and we still dance to those classics in salsa clubs today. The modern dance of salsa has its rhythmic roots in Afro-Cuban son plus rumba and mambo and has evolved to fit the name invented for it! Would you believe that the partner aspect of Latin dance came from the English Elizabethan court?? And travelled to the Caribbean via French pirates?? So it truly is a 'salsa' of global cultures... There are many 'styles' of salsa (Cuban, Colombian, Nuyorican, Puerto Rican, LA, 'On1', 'On2'...) but the main thing at the beginning is to listen to the music and learn the fundamentals of weight change and rhythm, and how to dance with a partner - to 'lead' or 'follow'.
Remember...
Your grasp of the fundamentals and your enjoyment of the music is the most important thing to help you progress and become a confident social dancer. Don't rush, enjoy the journey, and remember that everyone was a Beginner once. Not only this, but you have to be a Beginner before you can be anything else! See you on the dancefloor soon ;).
CLICK HERE to go straight to our Monday class information page.
CLICK HERE to go straight to our Wednesday Class information page.