In-Person Salsa Classes in Oxford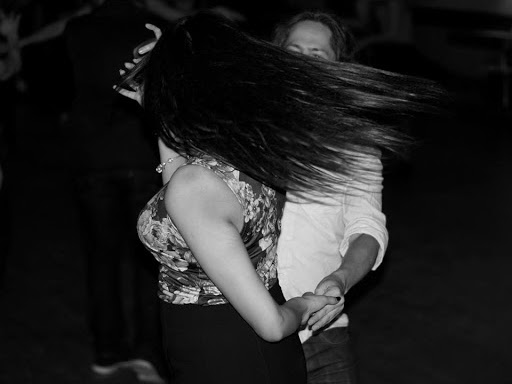 We are so excited to be offering in-person group classes again in central Oxford!
Our NEW HOME going forwards is the West Oxford Community Centre 'WOCC' which we have managed to secure for WEDNESDAY NIGHTS, back where we belong - we're in this for the long haul and intend to build our Wednesday nights back again post-Covid! I've been teaching salsa in Oxford on Wednesday nights in Oxford since 1996 and this little interlude is not going to stop me!
Due to the government guidelines on social distancing numbers attending must be reduced so all classes are *ADVANCE BOOKING ONLY*.
Please make sure you are able to attend before making your booking as cancellations of less than 24 hours cannot be refunded. We will retain your contact details for NHS track and trace for 14 days from each class you attend.
Please *DO NOT* attend class if you are suffering any cold or flu symptoms, especially any symptoms which my be Covid-related, namely a high temperature, a persistent cough, impaired sense of taste or smell.
Face coverings should be worn in the public spaces in the venue. It is the client's choice whether they wish to wear a face covering during classes, however it is not recommended to wear a face covering while taking exercise. Please contact us for a copy of our Covid-19 risk assessment at lisa@salsaoxford.com.
VENUE: The Main Hall, WEST OXFORD COMMUNITY CENTRE, Botley Road, Oxford OX2 0BT
CAR PARK AVAILABLE
SOLO SALSA - 8-8.55PM
Bodywork, footwork, shines, musicality - Mixed level - £10 per class
Please click on the PayPal button below for the date you require:
SOLO SALSA *WEDNESDAY 23RD JUNE FULLY BOOKED*
Please message lisa@salsaoxford.com if you wish to be on the waiting list (we do get last minute cancellations).
SOLO SALSA *BOOK BELOW FOR WEDNESDAY 30TH JUNE*
PARTNER BUBBLE SALSA - 9-9.55PM
£10 per person - 2 Levels Beginner/Improver & Intermediate/Advanced
YOU MUST ATTEND IN A 'PARTNERWORK BUBBLE'
partners will not be changed during the class.
Please click on the Paypal button below and SELECT QUANTITY, ONE PER PERSON ATTENDING:
PARTNER BUBBLE SALSA *BOOK BELOW FOR WEDNESDAY 23RD JUNE*

PARTNER BUBBLE SALSA *BOOK BELOW FOR WEDNESDAY 30TH JUNE*
Contact lisa@salsaOxford.com 07885 574360 with any queries.